Form 26AS is a very basic document which one can download through income tax e filing portal and this form provides various information such as TDS deducted in name of of assessee, TCS collected, self assessment tax paid, advance tax paid, SFT transaction reported in name of assessee and much more.
Recently the scope of Form 26AS was increased from normal tax credit statement to annual information report.
This is the most basic document which any person downloads before filing his/ her income tax return to know about his/ her tax credit or to check if any tax has been deducted in his name and he has not included that income in his Income tax return.
Also, this is the basic document based on which CPC or central processing centre of Income tax department allows credit of any tax paid by assessee or any tax deducted or collected (TDS/TCS) in name of assessee.
To know step by step Procedure for downloading Form 26AS in new e-filing website CLICK HERE.
Now, when people are trying to download Form 26AS for AY 2021-22 they are getting error on TRACES website wherein it is being said that:
"There is some technical error in viewing 26AS through Bank/ e-filing/ nsdl portal. Please contact your Bank/ e-filing/ nsdl for resolution of the issue or you may view 26AS by registering at TRACES website:-"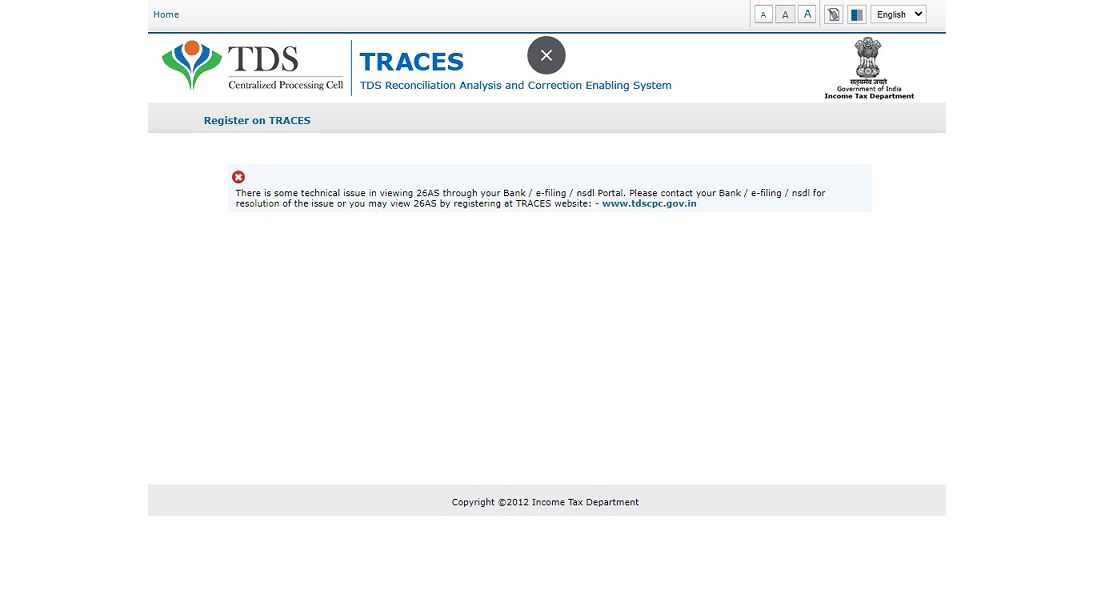 It is important to note that not all taxpayers or assessee are facing this issue as this is being faced by only few assessee and we believe this is a temporary glitch and the Income tax department will soon remove this error.
However, it is very sad to see that after Income tax website now even other website are seeing such errors.
Let's hope that Income tax department again brings all the website to it's earlier position where they used to work smoothly.
You can book phone consultation/ assistance online with expert as mentioned below:
To book ITR filing with experts CLICK ME.
To book phone consultation with experts for Income tax CLICK ME.
To book consultation for Faceless Assessment with experts CLICK ME.
To book phone consultation with experts for GST CLICK ME.
To book general phone consultation with expert CLICK ME.