We had published a post a few months ago where we had discussed that "ICAI has released an announcement highlighting the professional misconduct's that a practicing chartered accountant may be held guilty of, and of them one was related to getting work by way of advertisement or if he secures, either through the services of a person who is not an employee of such Chartered Accountant or who is not his partner or by means which are not open to a chartered accountant, any professional business."
It was a hint towards many people who were becoming member of various business networks like BNI which is the most famous among all.
Such groups were promoting things like advertising the services and soliciting work which is strictly prohibited by ICAI and ICAI had warned of people being charged of professional misconduct if they enter into such networks.
Now, a notice is being circulated in various groups wherein a notice has been issued to a practicing CA where he has been accused of professional misconduct as he is a member of such group.
Although right now no official statement has been released by ICAI on same but many senior professionals had also posted on their twitter that ICAI is issuing such notices.
You can watch one such post on our Instagram page: https://www.instagram.com/p/CGNvy_GHW6v/
You can also have a look at the alleged notice which ICAI is issuing to it's member's: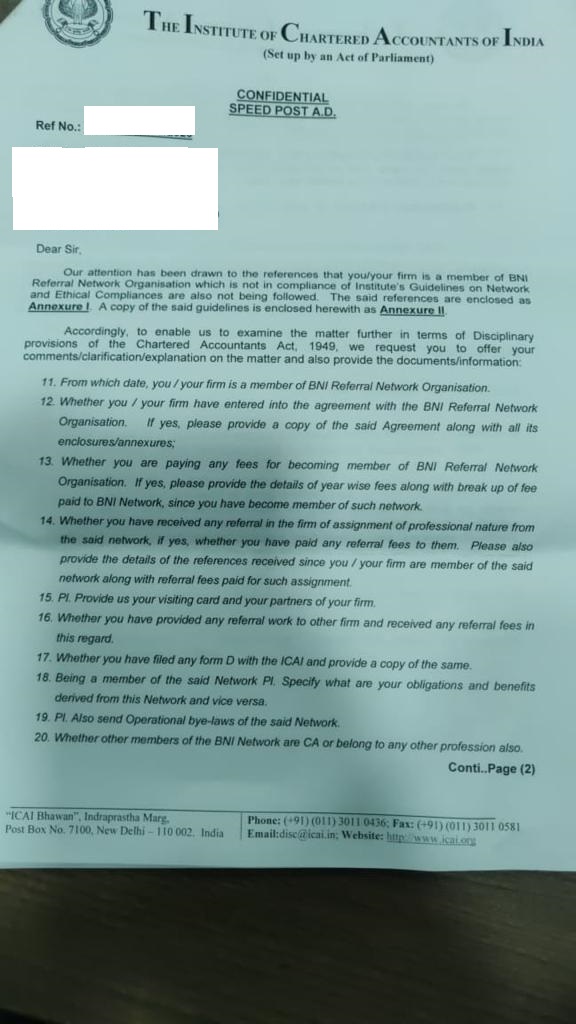 Looking at the above notice it can be said that those practicing CA who are member's of such group should be beware of stop their membership with such groups or else be ready for disciplinary action.
Earlier also there have been various instances where Practicing CA's have been accused of advertising their services because of which many CA's have either surrendered their COP (Certificate of practice) and have become financial consultant or become advocate where they get freedom of all such things.
The notice has nothing to do with one particular business group, as it is against professional ethics of ICAI if a practicing CA becomes member of group which is not linked or affiliated by ICAI and the member advertises his service there. Thus, even if one is a member of some other business group of similar nature he might receive such notice.
What are your thoughts on such action by ICAI, comment down below.