In our previous Post we were talking about how ICAI is providing credit card and loan facility to its members and helping them and now we come across an order under RTI (right to information) wherein ICAI has disclosed fees it pays for GST consultancy, audit etc and how much amount it has paid as interest and late fees under GST.
In the RTI they have disclosed that from July 2017 to 31.03.2020 it has paid following GST consultation and audit charges.
| | |
| --- | --- |
| Consultant | Fees (Incl. 18% GST) |
| AK Batra and Associates (GST advisory service) | 11,33,500 |
| MGS & Co. (Implementation and GST filing) | 46,41,082 |
| Hingorani & Co. (GST Tax audit FY 2017-18) | 14,16,000 |
Further, ICAI has paid the following interest and Late fees during various years which are as under:
| | | | |
| --- | --- | --- | --- |
| | FY 2017-18 | FY 2018-19 | FY 2019-20 |
| Late fees | 9,950 | 7,42,280 | 6,340 |
| Interest | 1,77,81,730 | 6,13,893 | 51,49,173 |
If we look at above more than late fees ICAI has paid interest under GST. More than Rs. 2 crore has been paid as interest and more than Rs. 7.5 lakh has been paid as late fees.
Many CA are questioning ICAI as to why is ICAI not implementing the GST properly how they are using funds of members irresponsibly. Although there might be some legit reason but on the face it looks that there is something wrong in the implementation.
Even though ICAI is bringing various plans to help its members but it would have been better if the funds are used properly to make the members more sound technically by offering important courses at reasonable cost rather than paying such late fees and interest even after paying hiring big consultants.
Below are some of the comments of various CA on this matter.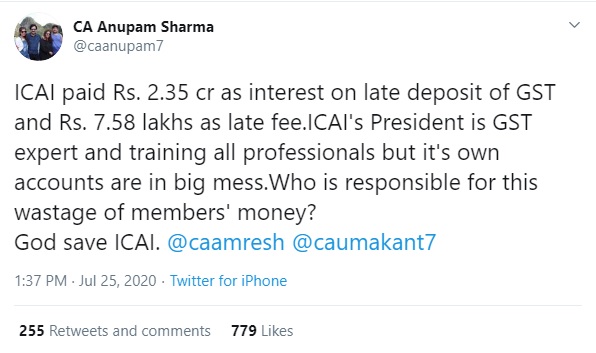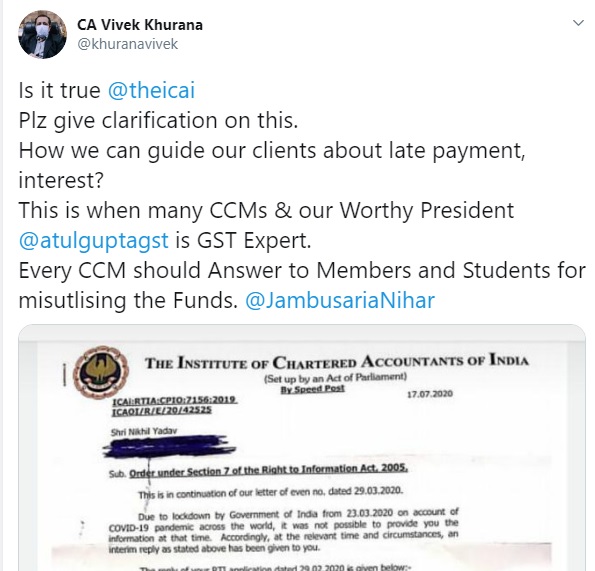 In the end let's hope that this all doesn't end as a political topic.
Now many people would say that this should not be discussed in public domain but when ICAI does something good they want it to be publicised so even the mistakes will be publicised. Also, the document is in public domain as it is an RTI and ICAI is answerable to its members.
In the end you as a members needs to decide what is right. Comment your thoughts below.
To read full RTI CLICK HERE.