Press Note regarding extension of due date for furnishing of Annual Returns GSTR-9 and GSTR-9C for financial year 2019-20 to March 31, 2021.
Finally due date for GSTR 9 and GSTR 9C for FY 2019-20 has been extended to 31.03.2021 from 28.02.2021.
Now although the due date has been extended but people are not very happy/ satisfied with the extension as the same came in the afternoon of the last day when everyone was almost done with finalising most of their annual return and GST audit.
People were expecting the same to come at an early stage as the due date for GST audit of FY 2018-19 was 31.12.2020 and people had only 2 months to complete FY 2019-20 annual audit.
Note: From FY 2020-21 Form GSTR 9C i.e. certification of reconciliation or as we call it GST audit has been removed. Although GSTR 9C has been removed but still taxpayer has to file reconciliation statement with annual return.
Read more at: https://www.taxontips.com/gst-audit-scrapped-by-budget-2021-what-is-the-truth-regarding-same-is-it-applicable-to-fy-2019-20/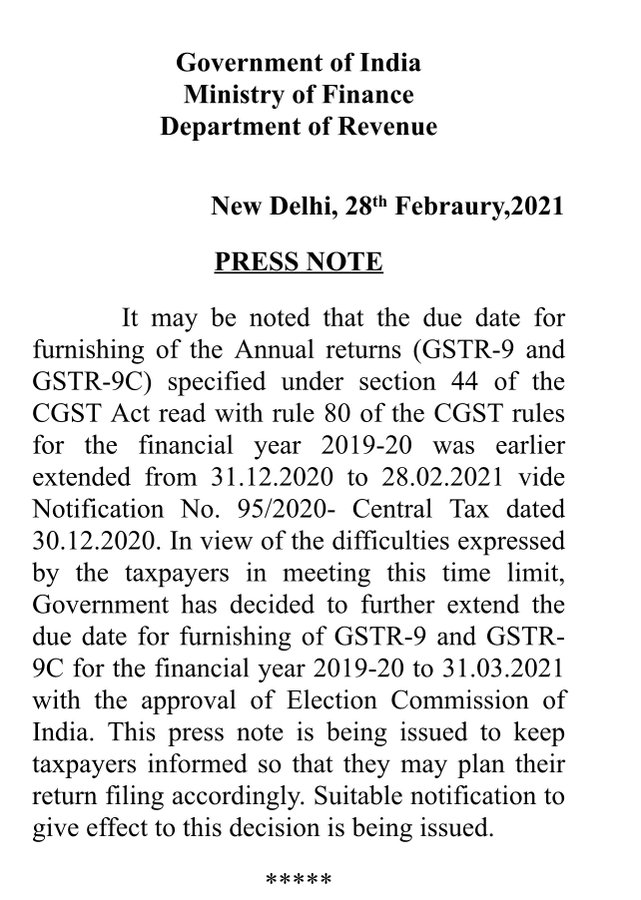 To read the tweet CLICK HERE.