Income Tax department has finally made it's new e-filing website i.e. www.incometax.gov.in live and you can now access the same. It was supposed to go live in the morning today but due to some unknown issues it has been made live in late evening of 07.06.2021.
Don't rush to the new e-filing website before reading the full post!!!
In our earlier post we had discussed about various features of this new website and now let's have a walkthrough the look of the new website.
As you visit the new website you will see the home screen which is quite different from the original or earlier income tax e-filing website.
This website on the home screen itself provide various literatures which has been organised based on the type of assessee and various features which can be used by the assessee without logging in the portal. Some of which guidance to file tax return, information about slab rate, assistance in filing Income tax return etc.
Although many of the features were available earlier also but now it seems more organised and neat and soothing with the colour selection.
As soon as you click on login you can see a login page wherein you can either login through PAN/ Aadhar or other credentials like separate User ID for chartered Accountant.
Do remember that your old ID and Password will be valid to login to new portal and one need not register again on new-portal.
Further it also shows an alternative option to login through net banking which was available earlier also but is more visible now.
As soon as you enter your PAN it will take you to password page wherein you need to also tick mark on something known as the "SECURE ACCESS MESSAGE" which is nothing but more like a Captcha and Software developers might be able to pass through this as they only need to tick mark it and nothing needs to be entered.
Looking at the below image where there is a space for profile picture Income tax department might even enable and link Aadhar photo of individuals to their e-filing portal in future as now it's mandatory to link PAN with Aadhar.
Next as soon as you enter the password it will show a list of features which you can access and which you cannot and it is based on the percentage of completion of your profile.
You can either decide to complete the profile or skip the same.
This is a new feature because earlier also Income tax website used to show some incomplete details in the profile but it would not show the features which one would not be able to enjoy because of same.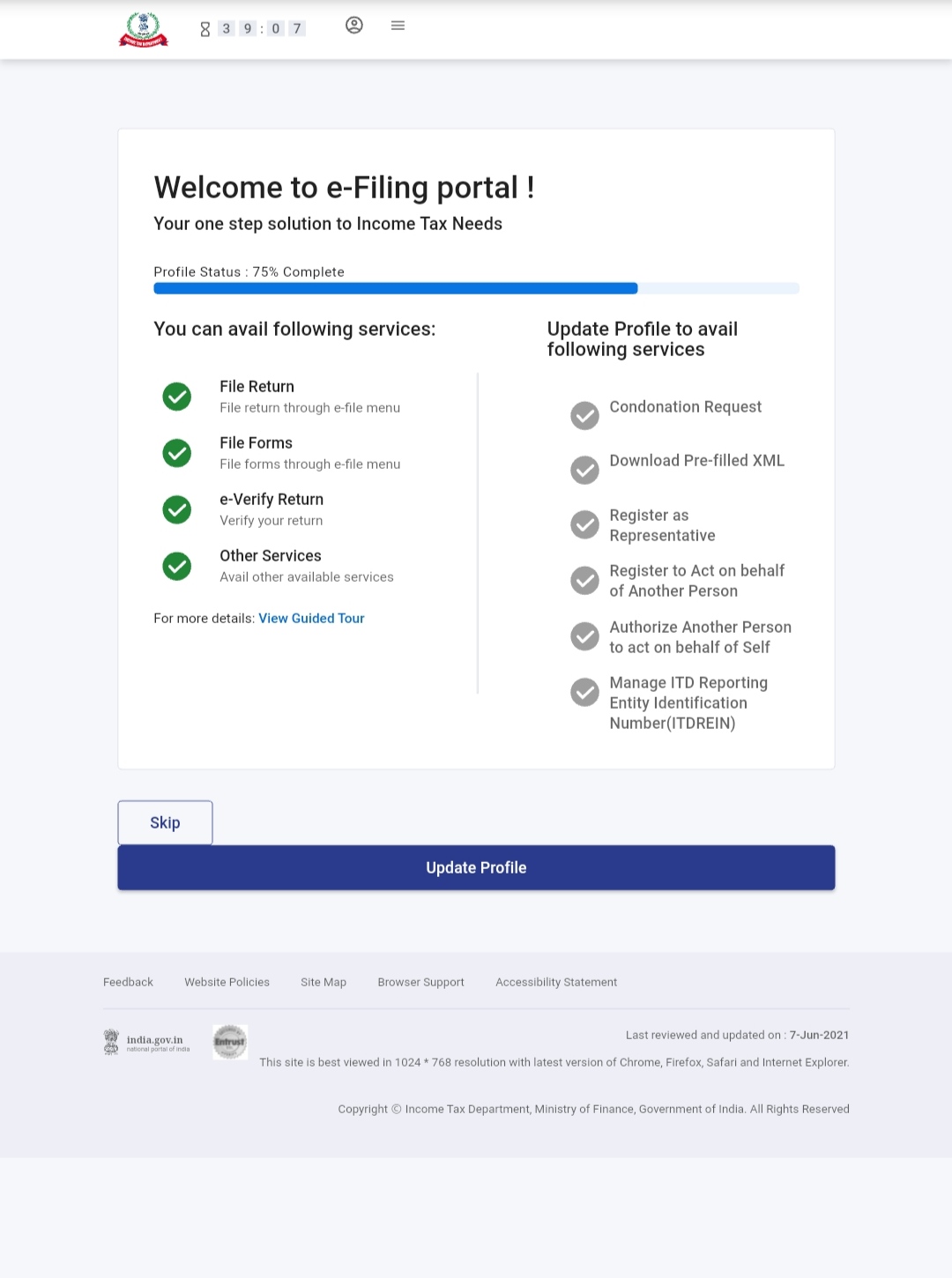 It gives you a window of 40 minutes i.e. the profile would be timed out if it stays inactive for 40 minutes.
Although Income tax department is saying it as a fast, easy and more simple website. We can say that for initial impression and for the first day it was quite slow and the speed might improve as we progress.
Hence, we recommended you in the start to not rush to new website and wait for it to get stable and that's why may be Department in one of it's circular to the officers had mentioned to keep all hearings after 10.06.2021.
Also, as the due date for filing Income tax return has also been extended hence don't rush to file the same until it's urgent.
You can watch the introductory video of the new Portal by Income tax department here: https://www.incometax.gov.in/iec/foportal/sites/default/files/2021-06/The_All_New_e-Filing_Portal.mp4
In the video they discuss about the features of new website which we have already discussed.
Further, in the download section of new Income tax website you can see various utilities available wherein it show ITR 1 to 4 together and ITR 5 to 7 together and they are based on JSON facility which is the same facility which is used in GST portal and let's see how this software are for filing Income tax return.
One thing is for sure still this won't allow you to generate computation of income. Also, when you login to your profile you will feel the website similar to that of GST website with same look and feel and placing of various tabs so we feel that this website is inspired from GST website but let's hope it's capacity of handling the taxpayers is not limited as that of GST portal.
Stay tuned and subscribe to our website and we shall bring to more articles about the features of this new website once this becomes fully functional.
To book phone consultation with experts CLICK ME.
To book ITR filing with experts CLICK ME.
To book consultation for Faceless Assessment with experts CLICK ME.